Norma Bundles - Cold Brew Collection
Latvian braid, corrugated ribbing, colorwork and stripes. The
Cold Brew Cowl
is an easy way to practice these knitting techniques. If you'd rather make a hat or fingerless mitts, the
Cold Brew Collection
includes these options. Each bundle includes enough yarn to make one of the Cold Brew items. Patterns available on Ravlery.
Content:
100% Superwash Merino
Gauge:
4.5-5 sts/inch (2.5cm) on US 6-9 (4.00mm - 5.00mm) needles
Care:
Machine wash gentle, lay flat to dry
​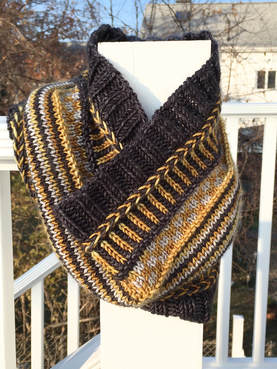 Cold Brew Cowl

​



​Gradient Bundles
Have fun experimenting with gradients. Each bundle contains 5 skeins of the popular
Lillian
ranging in color from light to dark. Use bundles individually or mix and match for larger projects.
​
Content:
100% Superwash Merino
Weight:
5 skeins each weighing 1.3oz / 37g
Bundle Total: 6.5oz / 185g
Yardage:
5 skeins each with 148yd / 135m approx
Bundle Total: 740yd / 676m approx
Gauge:
7-8 sts/inch (2.5cm) on US 1-3 (2.25mm - 3.25mm) needles
Care:
Machine wash gentle, lay flat to dry
Project Highlights
Fiar
Inara Wrap
Featured in Moon Shadow Featured in Iron and Mulled Wine